Google becomes more and more obsessed with user signals as ranking factors. The biggest one probably being the bounce-back-to-google rate. While we can't figure out this number directly, the users´ behavior on a page can give us valuable insights and hints to determine the page's performance.
Inspecting and watching these metrics is especially valuable when looking at your top performers if you want to tweak out the last bit of on page optimization for them.
Get user behavior insights for pages
Google Analytics data will show up in both the PageXplorer and PageTracker section when you inspect a page. If you plan to optimize the page we'd recommend you start tracking it to mark the changes you made.
Keylogs shows and compares the most valuable metrics for user behavior of this page. If you use Google Analytics you are probably familiar with them, but in order to interpret the numbers right it's good to know some background nonetheless as there is hardly any rule without exception!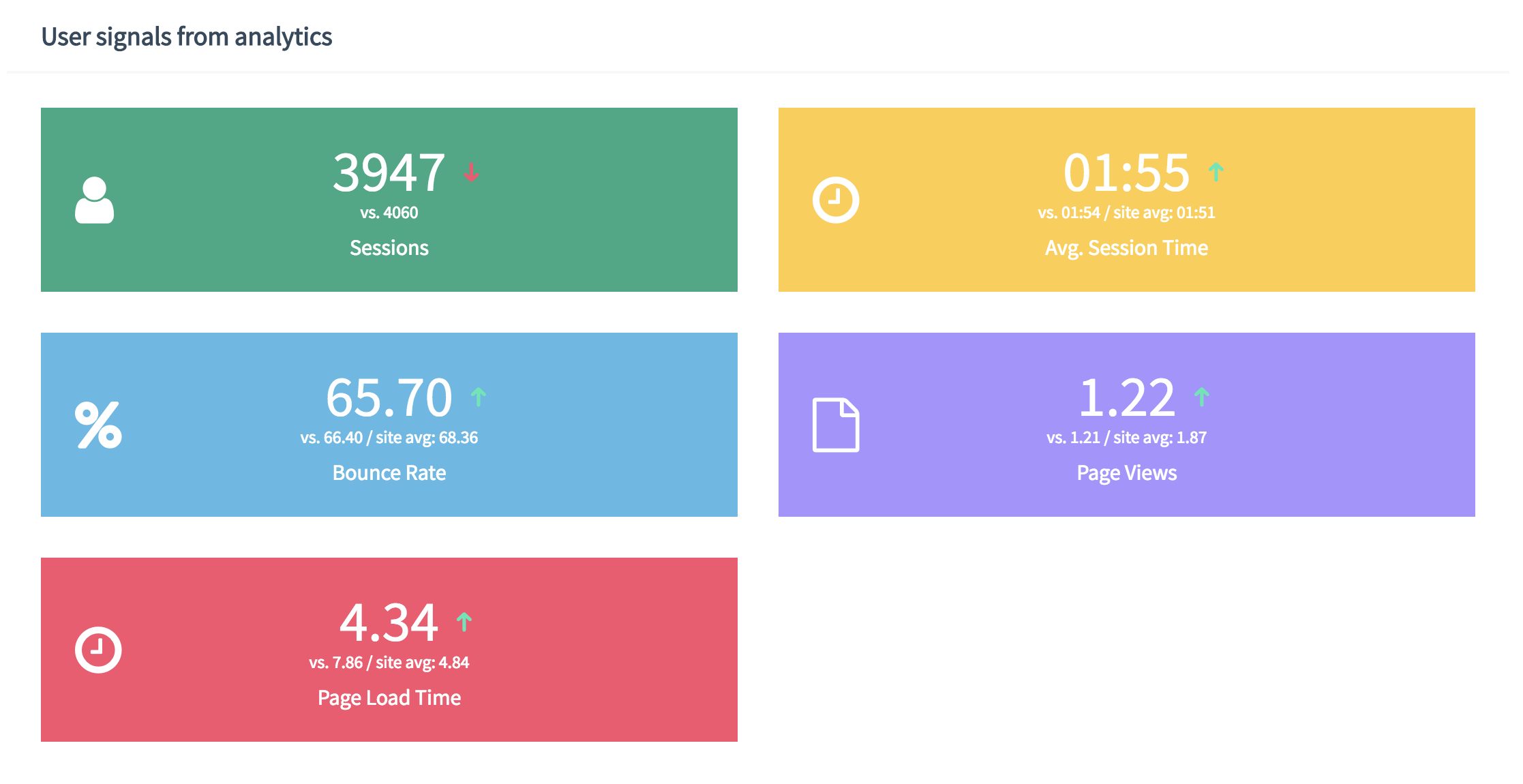 Sessions
A group of page hits by a single user within 4 hours – not equal to page views.
Average Session Time
The time users spend on the page in average.
Rule of thumb:
The more time a user spends on your page, the more interesting and relevant it is.
Exception:
Depending on the goal of the page a short session time can be good if the user found what he was looking for. Example: signup page or product recommendation with outlink to Amazon.
Bounce Rate
Percentage of users leaving the website after visiting this page without visiting other pages of your website. This is the closest number we have to the "bounce back to google" rate. Even though a bounce here is not necessarily going back to Google.
Rule of thumb:
The lower the bounce rate, the more relevant is your content. Especially valuable for "distributor pages" like homepages where users are routed to different content.
Exception:
Depending on the page goal a higher bounce rate is not necessarily bad. A blog post focusing on a single topic won´t automatically trigger the user to visit other pages.
Page Views
Number of pages users visit in average when entering your website on this page.
Rule of thumb:
The more pages viewed the better your website and content.
Exception:
Like above this depends on the page's goal. A low rate is definitely bad for a distributor page (like a homepage), while it can be OK for a blog post.
Page Load Time
Average amount of time to fully render this page in the browser. Can directly effect the bounce rate. The longer a page takes to load the more likely it is for a user to leave before even seeing your content.
Rule of thumb:
It's generally advised to keep your page load time as low as possible. There is now exception here. But don't focus too much on the absolute number here and always compare it to your site's average. The number represents a full page load – most likely your page will be usable and good looking to a user before every last bit is loaded. Use this number as an indication but check your page speed with different tools and don't rely solely on Page Speed Insights.
How to work with user behavior insights?
Check the values. Is there anything that pokes the eye? Is any value significantly below your site's average?
It's hard to give general advise on when these numbers are good. It's good practice however, to compare a page's values to that of the whole site and keep in mind their correlation and the goal of this page.
How to improve?
If you feel like your page is too slow or has bounce rates above the sites average, fetch PageSpeed Insights to see if you can improve your sites speed somehow.
If your Session time is below average check your content and design and compare it to your competitors'. Do you stand out? Is your content easy to read? Can you add more useful information to the page?
It can be quite hard to find out where to improve exactly. That's why it's recommended to make only small changes at a time and see how they effect the ranking. Remember to mark the changes in the KeyTracker so you can see the results and give Google a few days after you made a change to rearrange.
Get started now